Coaches and Personal Trainer Team
Each face you see below is the face of your new best ally. We call our gym Pursuit, because fitness, wellness, strength, muscle and athletic performance must be constantly pursued; there is no destination. We understand that pursuit can be confusing, challenging, and discouraging. That is why we are here. Firstly, we are proof that the pursuit is worth it. Secondly, we are here to share everything we've learned – to let you stand on our shoulders. Lastly, we are here to encourage you to surprise yourself. Give our training staff a chance to show you just how strong you can be. A coach makes all the difference!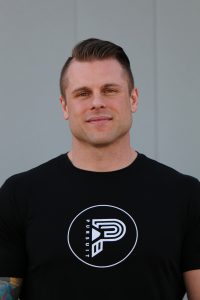 Samson Jagoras
I pride myself on my experience. I have been actively training and studying nutrition for 18 years. During that time I have tried it all; and through a lot of trial and error acquired an extensive knowledge that is not learned in text books. That being said, I own a degree in Physiology and I am in process of completing my masters in Sports Nutrition.
Our obesity problem is one that is grounded in a lack of education on nutrition.  Most people know little to nothing about nutrition, how their metabolism works and how to eat to reach their goals.  The industry is lead by ill educated doctors and supplement companies with an agenda. My mission is to fundamentally change peoples live through nutritional literacy.   Its not as hard as everyone likes to make it; and with a little guidance and education you will walk away with invaluable knowledge that will profoundly change your life.
The foundation of my training is grounded in sports performance and bodybuilding.  As a competitive athlete (football –  Go BUFFS!), speed, size, strength and agility are crucial to your success and vital to increasing athletic performance. I have worked with and under coaches that range from Olympic coaches, power lifting coaches, bodybuilders and dietitians. I played football for the University of Colorado, actively coached and participated in strength and bodybuilding, trained a gamete of athletes in speed and conditioning, and worked with a variety of personal training clients over the last 14 years.
My Passion is to help people reach their fitness goals and educate people on how to maintain their success. There are few things in this world that give me more joy than seeing others succeed and achieve their goals. (Bachelors – Integrative Physiology, N.E.S.T.A, Cross-fit Level 1, Nutrition Sensei)
---
Zack Whitmer
Zack has been involved in athletics practically his whole life. Beginning at the age of 6 he played tackle football in Los Angeles CA., where he grew up and continued to play through his senior year of High School. When he graduated in 2001 he had no specific plan of what he wanted to do athletically. He dabbled in BJJ, Muay Thai and body building. While attempting to find what he wanted to do to stay active, his health took a big hit and he rapidly started to gain weight. 
Fast forward to 2013 and Zack went from 215 lbs. his senior year of school, to 320 lbs. His most eye opening experience and the one that brought him to the conclusion he needed to take charge of his health was a  1/2 marathon he completed. It took him 4 1/2 hours and it was the most painful, embarrassing experience of his life. 
Soon after Zack moved to Northern CO where he began to do Crossfit. After a year of CF  he moved to a strength & conditioning gym where he started a nutrition program and became very interested in powerlifting and kettlebell training. In 2015 Zack got his Strong First Kettlebell certification. With his new love of training, nutrition and learning how the body uses food, he lost 104 lbs in just 18 month using flexible dieting. Through his journey he has learned from the best of the best about athletic training and nutrition. He has tested different nutritional methods on himself to see what the human body best reacts to and now has this amazing opportunity to share his knowledge and passion with others.  He has come through some of the darkest places of health and he is now uniquely qualified to help others reach their own health and fitness goals. He believes there are too many tainted people in this industry. He along with the Chasing Muscle team are setting a new industry standard of support to truly help people reach their fitness and nutrition goals with personal attention and a commitment to overall health and nutrition designed specifically for the needs of the individual. 
– Strong First Level 1 Instructor
---
Sam Muth
Ever since I was a teenager I've been captivated by the gym and lifting weights. As a young man I was motivated by the ability to progressively gain strength and build muscle. Changing ones own image of themselves is the most powerful thing someone can do and is what I believe this is all about. I've spent the better part of the last 20 years in and out of the gym learning what works, what doesn't work, and most of all cutting through some of the garbage you find on the internet. Most of my efforts in this industry have been spent in the bodybuilding area of the sport. I've learned and practice the art of Mind-Muscle connection and it's importance to sculpting a physique. Through trial/error and the constant pursuit of education to always keep moving forward and improving. I love the fact that each person is unique and will have their own set of challenges and goals.
Nothing is more motivating than helping others achieve their goals to become a better version of themselves!
NPC Registered Athlete and Competitive Bodybuilder, Nutrition Sensei
---
Brailey Freed
Every coach has a story as to why they became a coach in the first place. For me, I have always been a firm believer that when you put the time and effort into something you truly believe in, you will see the results. This is why I am super excited to be working with a staff that truly cares about your well-being and the successes that you will have while being part of our family.
My story starts as a high school athlete who consistently wanted to improve my speed, strength, agility and out work my competition. Through perseverance and persistence I became a collegiate athlete playing softball first at Otero Junior College and then William Penn University. When I went through the William Penn softball program I was intrigued by the strength and conditioning staff. It got me thinking of how these trainers developed our programs and it brought up the "whys" of what we do and why we do them. This was when I truly knew what I wanted to do with my life. I knew I wanted to coach, teach, coach and learn all about how the body works. I wanted to know how we shape our bodies into the best it can be through exercise, nutrition and life skills. I continued my education at William Penn after I graduated with a degree in exercise science: emphasis in strength and conditioning. I went to graduate school for two more years at William Penn studying Business Leadership. While I was in graduate school I was working as a graduate assistant coach in the strength and conditioning department. I grew through those two years as a coach developing performance based programs for women's soccer, basketball and cheer. I also helped with softball, baseball and men's basketball. After finishing My masters degree . moved back Colorado where I found myself loving the culture of the people and the drive of healthy lifestyles. I am excited to continue my journey with pursuit.
My background consists of performance coaching starting from middle school ages all the way up to collegiate level athletes. I have also worked with a few professional athletes in passing. Even though my specialty is performance based I have always had a passion to help our general population learn how to better themselves and live healthy lifestyles through exercising and nutrition. My passion is to teach others how to shape their mind, body and soul into the best it can be. I'm super excited to be working with individuals who are wanting too make a change not only in their body but also their lifestyle. Are you ready for the challenge? I know I'm ready to change your life!
Looking forward to working with each and everyone of you!
BA in phyisical education with emphasis on strength and conditioning, MBL in Business Leadership,(during this time was a GA for the strength and conditioning department) SFG Level 1
---
Rileigh Lienemann
I'm originally a Nebraskan, but have called Colorado home for the last 9 years.
I have always felt very at home in the fitness industry. Growing up, my mom and dad were very active and planted the seed for the love of fitness in my sisters and I since we can remember. My mom taught fitness classes, was very conscious of her nutrition (and her kid's), while my dad always lifted and took care of himself.
I was the pickiest most unhealthy eater out of my sisters despite my mom cooking us very healthy and delicious food. If it wasn't macaroni and cheese or whatever I was wanting for dinner that night, I wasn't eating it!
Although I felt very at home and comfortable with the fitness world, I did not enjoy going to the gym throughout high school. I was a four sport athlete and had one or two practices most every day with tournaments on the weekends.
Occasionally, to my displeasure, my mom would drag me out of bed and make me lift weights with her. It wasn't until I went away to play collegiate volleyball that I started taking my own fitness very seriously.
When I went away, my fitness journey became my own, not a chore, not something I was forced to do. I had to choose it for myself. That's when I realized how much I loved it and how it made me feel strong, confident, and happy.
After moving back home, I pursued my love of fitness and also started coaching club and high school volleyball. Coaching volleyball helped me realize my love of helping and teaching people. I love seeing the look on my client's face when they finally meet their goals, lift that heavy weight, or finally get the technique right on the movement that were working on! My love of fitness and of people drives me and inspires me every day!
Stay strong and pursue greatness!
---
Keri Los
I am originally from the Chicago area where I lived for the majority of my life. I attended Illinois State University to pursue my B.S. in Food, Nutrition, & Dietetics and a minor degree in Spanish. I moved to Colorado to surround myself with people who were like-minded and shared the same passion as me. I wanted to pursue my career in the health/fitness industry and Colorado seemed like the place to do it. This is where I found my family at Pursuit, and I have never felt more at home.
My fitness journey began when I was just a sixteen year old teenager in high school. I got my first gym membership at the cheapest gym in town. I was your typical cardio queen, would workout my abs 7x/week, get Culver's cheese curds on the way home from the gym, then wonder why I didn't have six-pack abs yet. As the years passed I gained more and more knowledge on weight lifting and nutrition. I began to turn this 'hobby' into a passion. Instead of dreading going to the gym, I genuinely looked forward to it. It was the best part of my day, it became addicting. Being a young female, is not easy by any means. I went through periods of body shaming myself and created such an unhealthy relationship with food. I struggled with this for years and years.. I wasn't comfortable in my own skin. I spent HOURS a day at the gym TWICE a day and was eating 'healthy.' I didn't understand what I was doing wrong. Even with the extensive knowledge I had, I still dabbled with all of these different fad diets, trying to find one that did what we all want –shred body fat and build muscle as fast as possible. I tried everything under the sun and got little to no results. Low carb, paleo, intermittent-fasting, keto… You name it, I've tried it. As humans, we tend to try anything that we hear works for people –But that's the thing… What works for one person, doesn't always work for the next. We are all different. It wasn't until I really understood how important my metabolism was and how my metabolism actually worked that I started to see the sustainable results that I had always I wanted.
Throughout my time at Illinois State University, I gained a lot of professional experience in different fields of dietetics. I have background in clinical nutrition, food science, food service management and many others. Although I enjoyed doing each of these, I acquired such an appreciation for the sports/fitness side of nutrition. I began to work closely with the university's sports nutritionist and strength coach. I customized meal plans, made pre/post workout shakes, held nutrition and cooking demos, and developed informational seminars to present to our athletes. I loved every minute of it I've always been an athlete myself, and I loved learning about how nutrition was directly related to my athletic performance. Having the experience with our university athletes and my own personal experience is what solidified my decision that this was the direction I wanted to take my career.
My ultimate goal is to share these experiences and knowledge with all of you, to avoid bouncing back and forth between these un-maintainable diets. I want you to understand your body and metabolism. I want you to feel confident. I want you to learn how to maintain your success. I want to be a role model to young men and women who struggle the same way I did. I want to be an inspiration throughout your fitness journey. And I want to help you live a happier, healthier life.
(B.S. Food, Nutrition, & Dietetics, NASM Certified Personal Trainer)
---
---
Dani Halsey
I am a Colorado native from Golden, CO. I have lived up in Northern Colorado for 7 years now and I love it! I received my B.S. of Sports and Exercise with a minor in Psychology from University of Northern Colorado (UNC) in 2014. After taking a year off I went back to receive my M. S. in Exercise Physiology in May 2017. Go Bears! .
During my time at UNC I worked as a Cancer Exercise Specialist at University of Northern Colorado Cancer Rehabilitation Center. There, I trained clients undergoing cancer treatments, just finished treatment or in remission. That facility is where my passion for helping others through their fitness truly developed. It is fun to watch someone become both mentally and physically stronger.
I have a lot of background as a clinical exercise physiologist. I have worked in health care for the past 5 years. 4 of which I worked as a physical therapy aide and most currently I work as a Exercise Physiologist for Banner Health. Which is also another passion of mine.
I am always looking to better myself and learn more. I want to be the best provider of health I can be, so during my masters program I decided I wanted to learn more about sports performance. For 5 months I lived in Raleigh, North Carolina and her worked as an intern for EXOS Sports Performance as a Performance Coach. I was given the opportunity to work with NFL Pro Day and Draft athletes, off season NFL athletes, Special Forces individuals and coach the youth classes.
Personally my fitness journey started in college. I had played sports my entire life with volleyball being my main focus through high school and part of college. But it was my freshman year at UNC that started it all.  I was not in a good mental space. I was unhappy with who I was and how I felt, simply put I was not in a healthy place, mentally or physically. I started spending more and more time at the gym and not only did I see my physical capabilities change but my mental space became a healthy one.  I have done many other forms of fitness and love Crossfit, power and Olympic lifting. Being able to dip my toes into all aspect of fitness has opened up the world for me. I truly believe I am a better athlete now than ever was before.
My goal as a coach is teach people that they are far more capable of what they believe. I want people to experience the feeling of " I can't do that" to "holy cow I just did that!!!". Goals are meant to be crushed. So let's attack both mine as a coach and yours!
Pursue Happy, Pursue healthy.

(M.S., EP-C, Bachelors of Sports and Exercise Science, Master of Sports and Exercise Science: Exercise Science, American College of Sports Medicine Certifed Exercise Physiologist  and EXOS Sports Performance Specialist)